Shopping Cart
Your Cart is Empty
There was an error with PayPal
Click here to try again
Thank you for your business!
You should be receiving an order confirmation from Paypal shortly.
Exit Shopping Cart
Family Raised AKC working German Shepherds- for medical alert and personal service
What a LIFE it's been! From the get go, this litter has been one huge learning experience and a very unique pack of pups to get to know. But what a wonderful experience and what fantastic teachers they've been!  I was hugely blessed by these pups! And doubly blessed by their owners!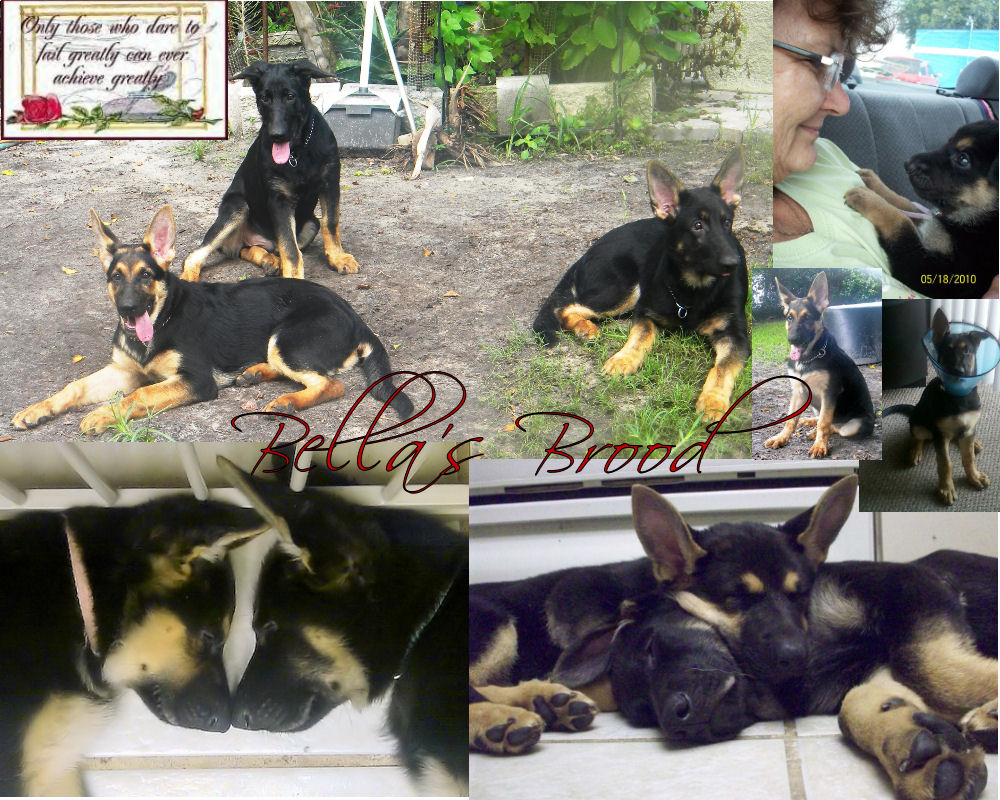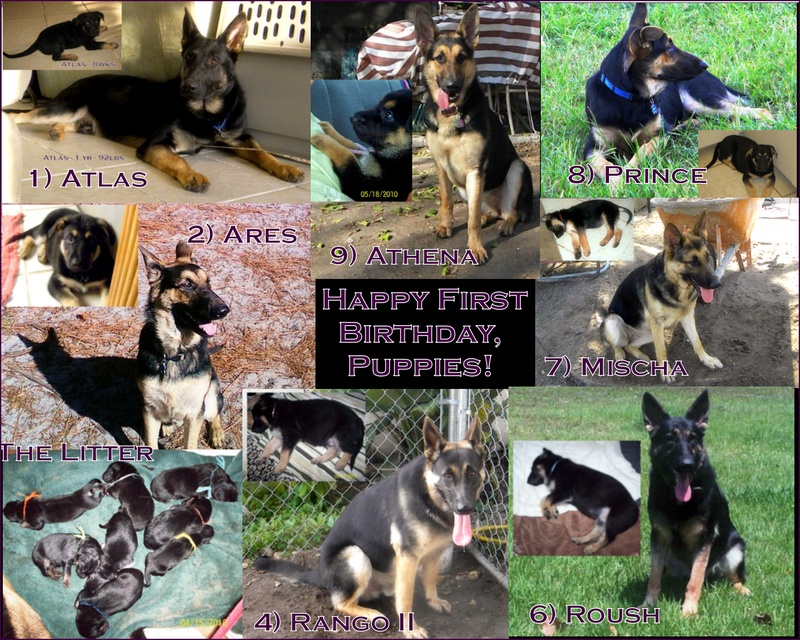 I can honestly say every single puppy was properly placed and has happily thrived and been a tribute to my kennel. Their drives are incredible and their personalities a riot to enjoy! What some percieve as a fierceness and unrulyness, is simply them growing into themselves and since we have learned all about all their special gifts. Each one is special to their owners (especially Atlas and Athena to me).
Sadly in 2010, DM testing was not sound enough to guarantee proper DNA results yet so breeding was a crapshoot. And a crapshoot I got despite trying our best...so far,  2 our of this 7 are DM affected: Ares ( who passed Aug 2019) and Roush.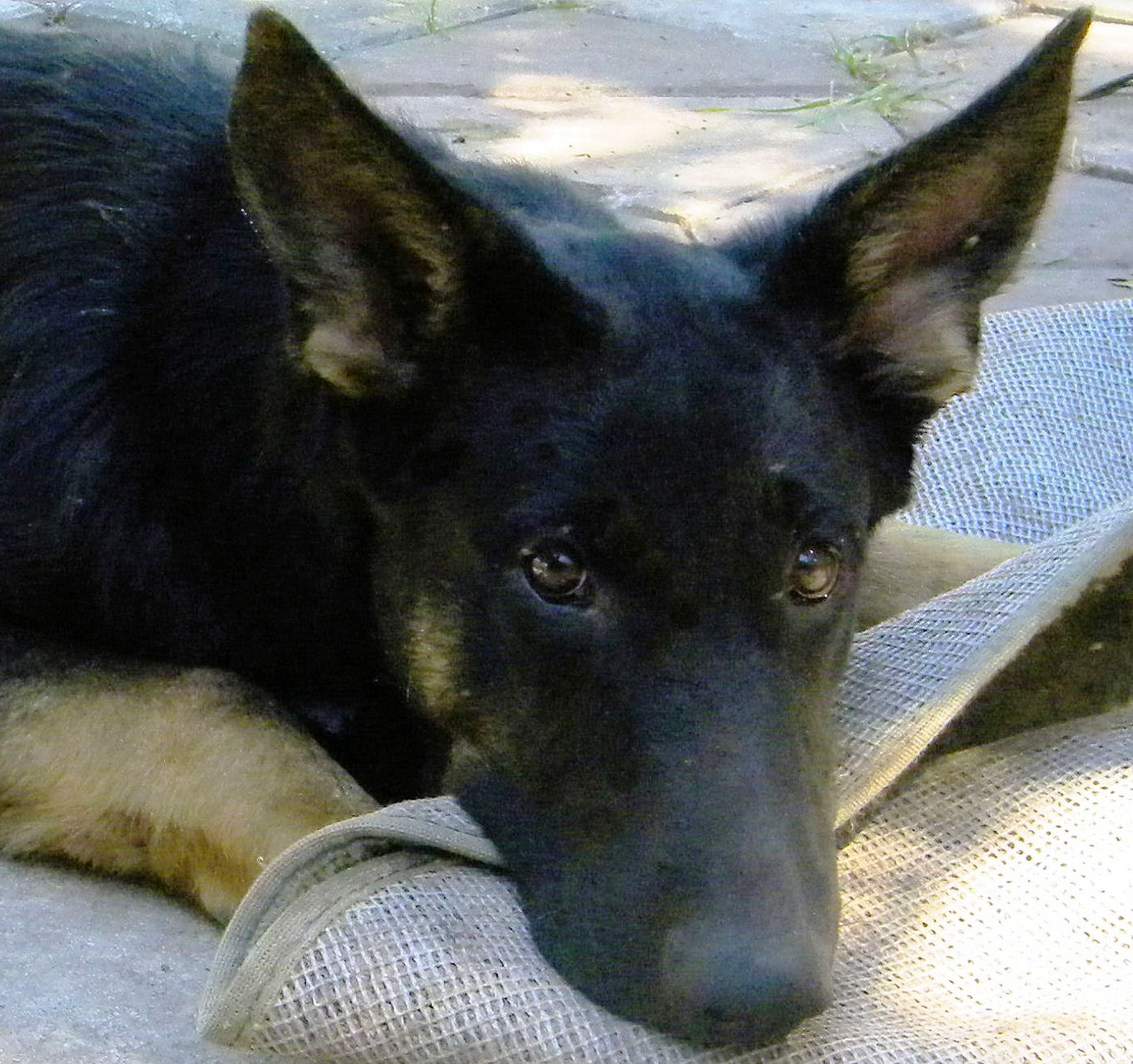 Atlas (#1) IS a permanent companion for life to me. His natural first born attitude and large sized strength with his eagerness to be there for me all the time makes him an excellent candidate. Atlas has developed into one of our finest males!  Atlas is the "big brother" to this litter and became the alpha male of the house when his daddy, Mercury passed in 2014. Atlas possesses a quiet strength that makes him perfect in public especially for me when I need stability.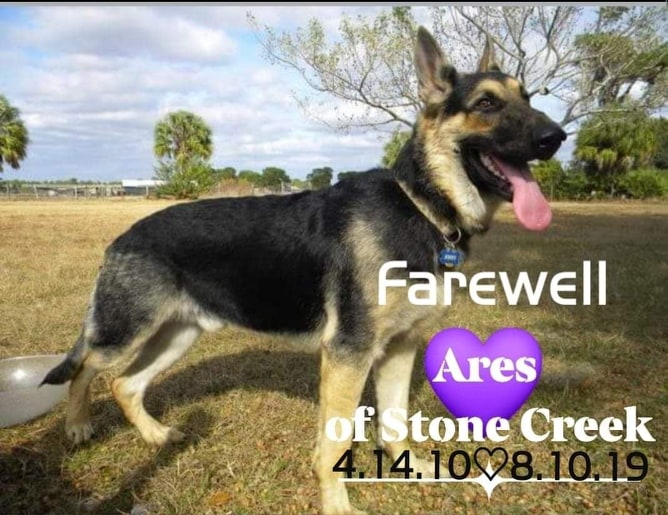 Ares (#2) was our beloved miracle puppy. He was a beautiful boy raised in Orlando by Jeremy and Megan and couldn't have been more loving and better trained. Ares started the "gods and goddesses" names for the KENNEL (Atlas, Ares, Athena, along with Mercury and Apollo). He was an incredibly sensitive dog and a wonderful companion for life to Jeremy and Meg. To our great sorrow, Ares succumbed to Degenerative Mylenapathy on August 10, 2019.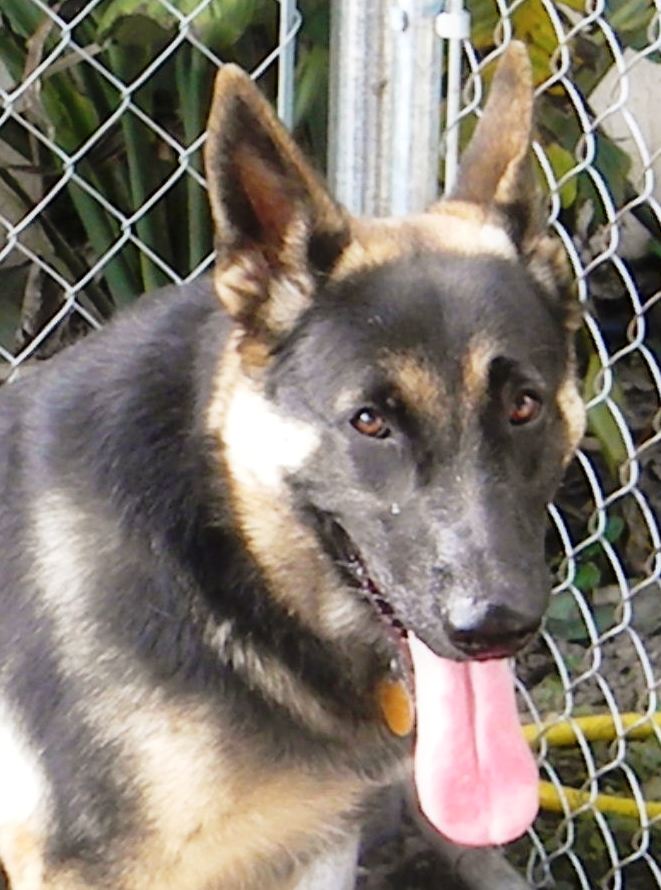 Rango II (#4) was "yellow" in the litter... one of the friendliest, funniest and happiest of all the puppies. He was everyone's favorite...Rango did eldercare for his beloved Cassie, nd 80+ yr old beautiful lady who loved him well until she died. Now Rango resides with her son, Jimmy!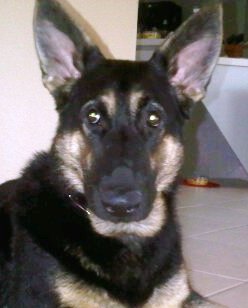 Roush, (#6) formerly known as Skye because of the sky blue ribbon he was tagged with at birth, was named for the Mustang engine in his owners car. Roush is our gorgeous, melting pot puppy of the litter! His is a mottled mix of colors from the litter that is striking to the say the least!Unfortunately, Roush, like Ares has been confirmed DM affected and shows signs now of it beginning. He now resides with Nora and Chet and is dearly loved!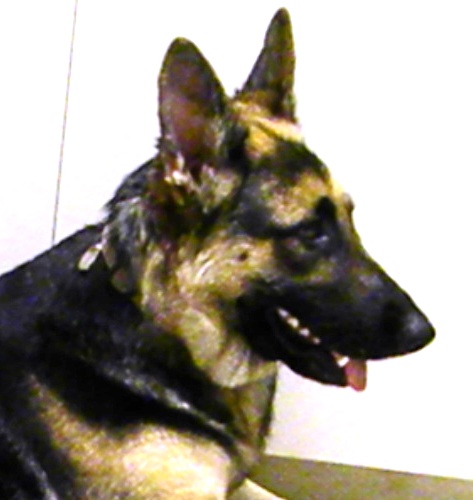 Mischa, (#7) my little lady in red (red ribbon, later a red collar). Athena's big sister has had a lot of early turmoils between homes but by the same token she's known a lot of love too! Mischa is a beautiful black and red, wonderful learner, very good with children, excellent in protection and service! Mischa suffered a few more owner setbacks before finally ending up with my son, Kenn and now has been his "little tank" for the last 4 years where she will live her life out with him and Vidarr.
Prince (#8) lives with a huge family of children and his favorite female, Shadoe in NC.is the protector of the Valenti family home!  For the summer of 2012, Prince and Shadoe became parents and had a beautiful litter: Chief, Mac, Laser, Lil Bit, Occy, Doctor, Maverick and Nala. Shadoe was spayed immediately afterwards though as her poor body cannot endure another pregnancy... but they did produce beautiful great natured pups! Prince is credited wth saving Marko's life when he had a heart attack several years ago, and he got to the hospital in time because of Princes ALERT!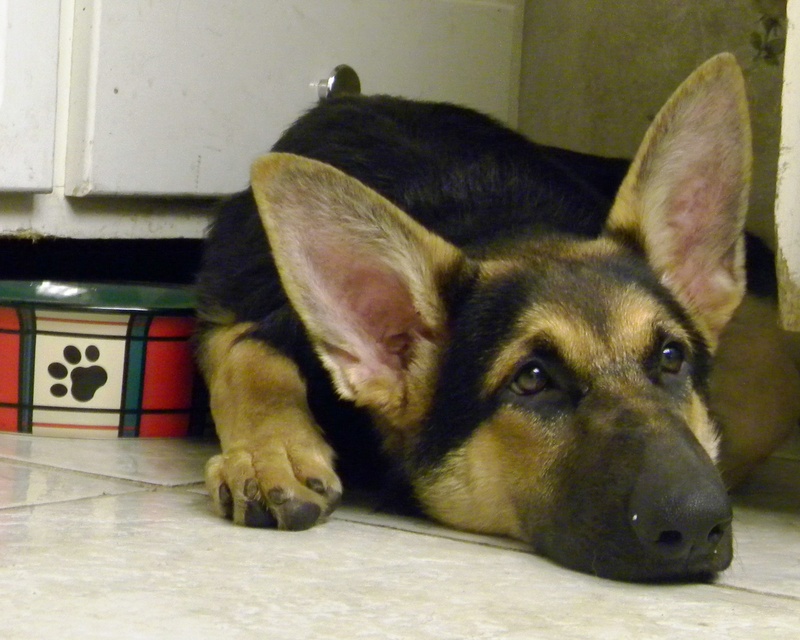 Athena (#9) is a gorgeous red and black female with more spunk than body to contain herself but the brightest loving look in her eyes that I wouldn't trade any of that spunk for to get her "calm". Ever on alert , nothing at all gets past Athena. She is Atlas' or Thor's constant companion and playmate, as well as little mother to whatever new pup I bring along. She's so much puppy herself that she just teaches them everything in the pack. On December 26, 2012 Athena delivered the SC3 litter she and Jett mated for and we were blessed with 7 beautiful (equally spunky) pups:Hercules, Adonis, Lukas, Anna, Venus, Mars, and Ophelia! Unfortunately, a toxic 8th puppy cost Athena her reproductive ability 4 weeks later and she will not be breeding ever again. Of all our moms thus far, Athena has been the best! BUT what Athena surprised us most with was her Cardiac alert ability with me. In 2014 she began alerting me to my atypical prinzmetal angina and chronic stress issues that were impacting my health and has sent me to the hospital on 3 different occasions.She's amazing!
/